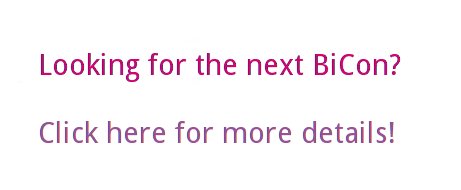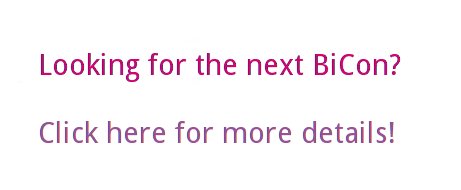 BiCon 97
Bicon 97 - the Fifteenth National Bisexual Conference
BiCon 97 will be held at the University of Greenwich (Woolwich Campus) between 28th and 31st of August 1997. We hope that you can join us for this year's festival of themed events, workshops, parties and entertainment for those who are bisexual and their friends, partners and allies.

BiCon is a three day celebration of all things bi; a chance to get together and chat, and to meet old friends and new. We hope that there will be something for everyone. This year Bicon is supported by the Metro Centre, Greenwich.

We endeavour to provide for everyone's needs, but this is not possible without your input. If you can offer to run a workshop, help those with disabilities, help out at the conference reception, or if you have first-aid or counselling skills, we would be very glad to hear from you. Remember, it's YOU who will make this conference a success.

To get the best from the conference, you'd be well advised to book accommodation at the site.

Accommodation will be in the University halls of residence, with shared bath/shower and a communal kitchen area. A breakfast (English or Continental) will be supplied if needed.

Food

Breakfast only provided for those who have booked accommodation - no other food is provided. There are plenty of sandwich/burger/kebab places nearby, plus a market selling fruit, veg etc.; also Chinese/Indian restaurants; the Director General pub serves food at lunchtimes. We will try to supply a list of those that cater for vegetarians and vegans.

There is a kitchen on each floor of accommodation with fridge, microwave, 2-ring cooker but no utensils - bring your own pots/pans/crockery/cutlery!

Bars

Bar below accommodation block: open Fri/Sat: 11am-midnight; Sun: noon-3pm. Not open Thurs, but local (straight) pub the Director General will accept a large group of bis. Also local gay pub, the Woolwich Infant (5-10 mins walk), has karaoke night on Thursdays.

We, the organisers, would like to point out that the accommodation rate supplied to us by the venue applies to "one room, one person". Unfortunately, there will be no "crash-space" available at the accommodation. There is a campsite at Abbey Wood (short bus/train ride away).

You can email us for further information or questions on BiCon 1997 email address removed.
Booking
This year we're operating a limited sliding scale of charges. We've been limited in how we can band the prices owing to the late booking of the Greenwich venue, due to events outside our control. We will be operating a hardship fund for those on benefit or whose incomes are below £10,000 p.a. To make things easier, you can send us three postdated cheques (dated one month apart.) If you wish to be considered for either the hardship fund or to pay by 3 cheques, please tick the appropriate part of the form.

To book your place at BiCon 97, please print out the Booking Form page, fill it in and send it with your cheque or postal order to:

BiCon'97
BM Bicon
London WC1N 3XX

Please Note: A discount will be applied to the prices, if you book before or on the day of Lesbian, Gay, Bisexual and Transgender Pride, in London on 5 July 1997.
Travelling to Bicon
The conference site is close to the Woolwich Free Ferry, which runs from 8.00am to 8.00pm.
By car

From the north: take M1 south; turn onto M25 towards Dartford Tunnel; turn south on M11 until A406 - follow signs for Woolwich Ferry; cross River Thames by ferry; over the river go straight across the first roundabout up John Wilson St.; take left turn marked 'University of Greenwich (Halls)'; turn left into venue car park (press button on the barrier control for security staff to open barrier).

To avoid ferry: turn off North Circular at A13; head for Blackwall Tunnel; cross river by tunnel and follow signs for Woolwich Ferry; turn right at ferry roundabout.

From the south: follow South Circular signs for Woolwich Ferry.

Parking at the site is very limited. There are plenty of multistorey car parks in Woolwich town centre - about £6-8 per day, 30p on Sats (pay and display).


By mainline train from central London

Go from London Bridge Station to Woolwich Arsenal Station; turn left out of station, cross the central park-like island; walk up Wellington St.; turn left into alley by Director General pub; at the bottom turn right - registration in halls of residence is straight ahead.

Or: go from Liverpool Street to Manor Park; cross road and catch bus 101 to North Woolwich Free Ferry; cross river by either ferry or foot tunnel (it's a bit scummy); go straight over first roundabout and up hill about 1/4 mile; take left turn marked 'University of Greenwich (Halls)'.
By bus from central London
From Trafalgar Square take bus 15 to East Ham White Horse pub; change to bus 101 going to the ferry; cross river and follow the foot directions above.
Or: from New Oxford St./Tottenham Court Rd. junction take bus 25 to Manor Park and then catch bus 101 to ferry.

Pages © Copyright BiCon, 1999. This page updated at 20:52 12/Feb/99, BiCon 1997 email address removed.

BICON® is a registered trade mark of BiCon Continuity Ltd, and is used with permission.
BICON® is a registered trade mark of BiCon Continuity Ltd, and is used with permission.